With so many SaaS marketing channels available, how do you decide which ones to focus on? It's an excellent question to consider. Rather than merely drowning you in a list of marketing options, let's consider strategy first, and then you can choose the right channels.
SaaS Marketing Strategy: 4 Questions To Answer Before You Choose Channels
While software as a service (SaaS) companies have some unique factors like subscription revenue, they still need to answer a few fundamental questions. At a minimum, you need to have the right answers to these four questions.
1) Who is our customer?
B2B companies sometimes struggle to answer this question effectively. An answer that says, "Fortune 500 companies" is incomplete at best. A much better answer: "VP of marketing at Fortune 500 companies in the financial services industry." If your sales process involves multiple stakeholders, focus on the people likely to be most influential first.
2) What is our market's level of sophistication?
Inspired by the classic book "Breakthrough Advertising," by Gene Schwartz, this question is about your market's sophistication. To illustrate the point, consider the challenge of selling cloud or SaaS software in the 1990s or early 2000s. Most people were unaware of the technology. That created significant challenges for many in the space.
In contrast, most businesses are aware and relatively sophisticated about cloud software options today. In that case, your marketing message and channels will need to change. For instance, you talk about advanced cybersecurity features to niches concerned about those capabilities like financial services, defense, and healthcare.
For more insight on the 5 levels of sophistication, Copyblogger has an excellent guide: The 5 Types of Online Prospects, and How to Sell to Each of Them.
3) What marketing skills and resources does the team have?
Unless you have the resources of a Salesforce, Microsoft, or IBM, most SaaS companies I know have significant skill and resource limitations. That's why it is worth considering the capabilities of the team first. For example, if you are outstanding at events, focus on that marketing channel. Talk to a digital marketing consultant to help you with other channels. You can improve your team's capabilities by investing in marketing tools.
4) What's unique or distinctive about our offer?
Ask yourself why a customer should buy your software versus a competitor or maintaining the status quo. With software products, you are often competing against manual processes or even spreadsheets. For example, many small businesses use spreadsheets to manage customer data. A short, clear message about how your product adds value makes sense.
To give an example of distinct SaaS features, I like Pipedrive CRM for two reasons. I like that it visually presents sales activity by step, and I love the integration with Google email (i.e., GSuite). For more insight on that front, take a look at my post: How Using Pipedrive CRM Improved My Business Habits.
Now that you have answers to these questions let's dive into the specific SaaS marketing channels.
The Top 9 SaaS Marketing Channels: Choose Your Own Adventure
To build a portfolio of SaaS marketing channels, review this roundup of ten options.
1) SEO and Content Marketing
Advantages: Generally produces highly engaged leads because your prospects are connected to searcher intent. There are also some low entry points that make getting started easy.
Disadvantages: Content marketing and SEO are medium to long term strategies to deliver results. It can take 6-18 months to achieve results. Faster results are possible by adding more resources and using specific software tools like UberSuggest.
Cost: Expertise is the main cost of this channel. You can develop it in-house or work with a consultant or agency. If your field is highly competitive (e.g., financial services and most B2B niches), it will be more expensive to get results.
Overview:
SEO and content marketing are my specialty areas, so focus so I may be biased. I recommend this strategy since it produces long-lasting results. This channel also benefits from other marketing efforts such as public relations, thought leadership, and activities. If you want to take a do it yourself approach, I recommend reading "They Ask, You Answer" by Marcus Sheridan. It's one of the books I recommend in my post: 10 Must-Read Books for SaaS Marketers and Founders (+1 Bonus At The End).
2) Social Media (e.g., Facebook, LinkedIn, Twitter)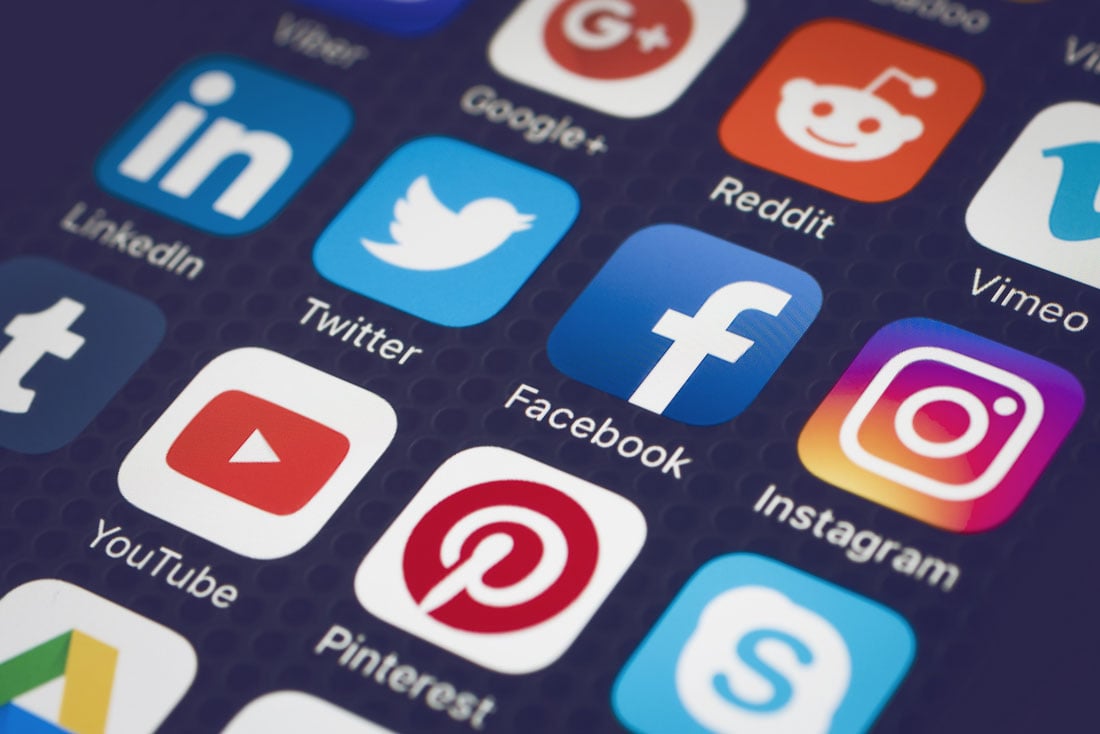 Advantages: Social media sites are designed to be easy to use so that you can start a company page on Facebook, LinkedIn, and elsewhere easily. In addition, these platforms have large numbers of active users, so you can probably reach some or all of your target market.
Disadvantages: Years ago, you could achieve great results on social media without paying a dime. That's all changed. With a few exceptions – LinkedIn publishing comes to mind – you need to pay for access on social media. Building a social media following, instead of an email list, means you have less access to your audience.
Cost: Varies depending on your approach. At the low end, you could use to use these platforms without paying for advertising. In that case, you pay for expertise and talent to create content, connect with other people, and generate leads. At the high end, there is no limit to how much you can spend on these platforms.
Overview:
When it comes to selling SaaS products through social media, there are a few success stories to highlight. ClickFunnels, a marketing automation platform, generally does well and leverages the personal brand of co-founder Russell Brunson. Gong, a sales automation platform, is doing excellent work connecting with prospects on LinkedIn. I suspect that both companies use social media advertising to extend their reach.
3) SaaS Directories: Software and App Listings
Advantages: The potential to acquire highly targeted traffic since these websites are the destination for prospects actively looking for a solution. For example, a business user may browse Capterra to discover new customer relationship management (CRM) software. To give yourself an advantage, you can ask your customers to write ratings and reviews for your product.
Disadvantages: Since SaaS directories usually list many companies in a given category, your positioning may suffer. In some cases, these directories facilitate feature by feature comparison between products. That kind of comparison may not be helpful in the case of less mature products.
Cost: SaaS directories generally have some combination of free and paid listings. It is wise to start with a free directory listing first. If you find good results, you can always pay for more exposure and potentially traffic later on.
Overview:
From an SEO and discovery perspective, SaaS directories are an easy win. I recommend adding at least 3-5 SaaS directories to your list of SaaS marketing channels. Why that few? For the best results, directory listings need updates and maintenance. For example, you might reach out to customers monthly to ask them to write a review and provide updates on new features and integrations. It's easier to maintain a small number of directory listings effectively versus spreading your efforts too thinly.
SaaS Directories List
1) Capterra
5) G2
6) pickSaaS
7) SaaS Genius
8) SaaS Max
9) SaaSHub
10) Software Advice
11) Software Suggest
12) Growth Junkie
4) SaaS Directories: Local Listings
Advantages: Adding your company to a local listing (e.g., Toronto Startups) is a fast and easy way to raise your profile. Adding your profile to such a listing also makes it easier to network with local companies.
Disadvantages: Since there is a low barrier to entry for these websites, do not expect a tremendous amount of traffic or SEO benefits.
Cost: There are free options where your company is on a long list, along with many others. In other cases, local listings take the form of a member directory. For example, consider the Toronto Board of Trade – there is a member directory, but you need to be a paying member to be listed.
Overview:
With local listings, you will probably obtain some useful links and a moderate amount of traffic. The real benefit comes from using your membership in local organizations to network. Not sure where to get started with networking? I recommend the classic networking book "Never Eat Alone: And Other Secrets to Success, One Relationship at a Time" by Keith Ferrazzi and Tahl Raz. As with traditional software directory listings, it is best to choose a small number of local listings to focus your efforts on when you are getting started.
Tip: Local listings are an "Easy Win" that should deliver at least 5-10 worthwhile links to your website. These listings are also helpful in terms of increasing your credibility as a business.
Local Directories List:
4) Built in LA
5) Built in NYC
5) Pay Per Click (PPC) Advertising for SaaS
Advantages: You only pay when a user clicks on your ads. That means it is possible to get started with a small budget. Further, PPC advertising based on search (i.e., "paid search") tends to put you in front of highly targeted prospects.
Disadvantages: PPC platforms require considerable technical and marketing expertise. For example, Google Ads has many different settings to target locations, ad scheduling, and demographics. Further, there is an art to copywriting for Google Ads. Not everybody can write a good ad in just a hundred characters.
Cost: you decide how much you want to spend. However, some industries have high click prices, so small budgets may not go far. For example, B2B keywords in Google Ads often see a cost per click prices of $10 or more. That means smaller budgets are going to struggle to generate results. There is a silver lining here – you generally have a cost advantage when you advertise on your brand name. For example, Cisco buying ads on keywords "Cisco" will usually have lower PPC advertising costs compared to advertising on other kinds of keywords.
Overview:
In 2020, I've made developing my Google Ads skills a key learning priority. It's a powerful platform because you escape the challenge of spam and interruption marketing. Instead, you only show up when a customer enters a search related to your topic. While you can start spending money on Google Ads in less than 24 hours, results may take longer. As a rule of thumb, I recommend giving a Google Ads campaign at least three months to show results. If your team lacks the expertise to run these ads, consider working with a specialized agency or consultant.
Recommended Resources: I recommend the Paid Search Podcast for fun and timely perspective on all things Google Ads. Note that the podcast does not explicitly focus on SaaS marketing, so you will need to pick and choose which observations apply to your situation.
6) Event Marketing For Software Companies
Advantages: In event marketing, you have the chance to meet highly qualified prospects. In general, the more attendees pay to be at the event, the better. With events, you can connect with a large number of people in short order.
Disadvantages: I'm writing this post during March 2020 (i.e., COVID pandemic!). There are cases when it is going to be difficult and perhaps even irresponsible to hold traditional in-person events. In normal conditions, the other drawback to event marketing is the long lead time necessary to plan. The other disadvantage is that you need to have a solid follow up plan in place to translate conversations into business opportunities.
Cost: Depends on ticket prices. If you are budget constrained, look for local events first.
Overview:
Depending on your resources, there are several ways to approach event marketing. First, you can pull out all the steps and organize a giant conference like Salesforce.com's Dreamforce event, which draws tens of thousands of attendees. Second, you can organize smaller scale events based on a theme or region (e.g., TechToronto is a fantastic event for Toronto based technology companies). Third, you can leverage events as an attendee or exhibitor.
If you are an attendee or exhibitor at an event, it pays to set yourself specific goals. Without that direction, I find that I tend to take notes from the presenters, enjoy the food and drink, and then head home. My event marketing key performance indicator is to talk to five people in an evening.
7) Podcast Tours
Advantages: You can share your professional story and information about your product for 15 minutes or even over an hour in some cases. Audio also creates a certain kind of conversational connection that is hard to replicate in other channels.
Disadvantages: You need some hustle and patience to make this marketing channel work. In addition, you also need to be comfortable speaking about your company at length and answering questions. Most of the time, podcasts tours for SaaS are best when the founder or CEO appears as a guest. In some cases, a VP of marketing or similar person can take on the role, but this is relatively rare.
Cost: The only cost is labor if somebody else does it for you. Or you can do it all yourself!
Overview:
Podcasts, sometimes called Internet radio, are one of my favorite content mediums. In the SaaS industry, there are a few outstanding shows, including Mixergy, the SaaS Revolution Show, The Official SaaStr Podcast, and The Top podcast by Nathan Latka. Of course, you're not limited to appearing as a guest on business podcasts. If you have a financial software product, look for finance and accounting podcasts. For the best results, I recommend listening to one or two episodes of a podcast before you reach out to ask to appear on it. That pre-work will give you much higher credibility and a better chance to convince the podcast host to agree.
Resource: Look into Kai Davis's excellent resource Podcast Outreach for additional guidance.
8) Public Speaking For SaaS Growth
Advantages: Unlike simply attending an event, public speaking puts you on a stage. As a result, you instantly become more credible to the audience. That means you have inbound leads at the conference if you speak well.
Disadvantages: You need to craft a compelling message and deliver it well. Usually, you will not be able to provide a product demo. Instead, you will need to talk about the problems and issues in your industry.
Cost: Depending on your success as a speaker, you may earn income from public speaking! However, you should not expect that happen in the case of SaaS promotion. Instead, you might receive free event tickets, and you might receive partial or full travel expenses.
Overview:
Public speaking for SaaS growth is a tried and true formula. If you are getting started, start with local events first. If you have a sizable budget, you might organize your event like Unbounce's annual event: the Call To Action Conference. For most of you, you will get the best results from pitching yourself to industry conferences covering a wide variety of topics.
For those interested in this strategy, you need to identify a list of conferences. Instead of simply adding a list of conferences, I have a different approach for you. Use the "portfolio reconnaissance" strategy – find out where SaaS public speakers are speaking. Start with the SaaS speakers page on SpeakersHub.com.
Tip: End your public speaking presentation with a clear call to action like signing up for an email list. You can offer a free download of your speaking slides. Check with the conference organizers before you finalize your call to action because they may have restrictions you need to follow.
9) Podcast Sponsorships: Scaling SaaS Growth By Audio
Advantages: Highly targeted advertising that goes straight in the ears of your target market. You also get added credibility because podcast hosts tend to read the ad copy personally.
Disadvantages: Compared to other marketing channels, it is tough to find the right podcast. There are some listings to help. However, you need to ask detailed questions about audience size and engagement.
Cost: Pay more for exposure on larger podcasts. According to Advertise Cost, it costs $18 for a 30-second ad CPM or $25 for a 60-second ad CPM. CPM means cost per 1,000 listeners. Based on these averages, it would cost you $25,000 to reach a podcast with 100,000 listeners with a 60-second ad.
Overview:
As podcast listening has grown in popularity, podcast advertising has taken off in popularity. In contrast to podcast tours, podcast ads are easy to scale up if you have more money than time. Not sure if it works? I discovered Opteo – an advertising SaaS platform – via their sponsorship on the Paid Search Podcast.
SaaS Marketing Channels: Grow Your Business In 5 Hours Per Week
You might be feeling overwhelmed about the sheer variety of options on the table. That's ok. Take a deep breath. You can produce results form these marketing channels in just five hours per week. Here is a simple marketing schedule that almost anyone can manage. If you have more capacity, add more channels to your efforts. To start with, I recommend choosing two marketing channels: focus 80% of your efforts on one channel and the remaining 20% of your efforts on the other channel. Commit to this focus for at least 90 days before revisiting your choice of channels.
1) Choose Your 80/20 Marketing Focus
You only have a few hours per week to achieve SaaS marketing success, so let's focus. First, choose your top focus where you will spend 80% of your time (i.e., 4 hours per week). Second, reserve some capacity (i.e., 1 hour) per week for experimentation. Reserving some time for experimental ideas helps you to resist "bright shiny object" syndrome.
2) Create Marketing Copy and Content
Now that you have selected a channel, it is time to create your copy, social media updates, and messaging. If you have the time, ask a colleague to review what you've created.
3) Hit Publish
Put your marketing into the world! Sure, take some time to use tools like Grammarly to check your work. Until you publish your content and copy, you will not get ahead.
4) Engage With Your Community
If your SaaS marketing channel has social elements such as likes and comments, check back and engage with the comments. As you grow your presence, you may have to pick and choose where to spend your engagement time.
5) Measure Marketing Results
Choose a monitoring frequency such as monthly or quarterly, and review your results. At a minimum, you should measure changes in website traffic. Ideally, you want to set up conversion tracking to measure how many leads and customers you get from each channel.
Need SaaS Marketing Help Right Now?
Executing all of these SaaS marketing channels is difficult without outside support. Send me a message through the contact form if you'd like to discuss ways to grow your SaaS business.